With Christmas fast approaching, now is the perfect time to light a candle, sit back and have some fun putting together a festive DIY, and what better to combine our love of fantasy with the Holiday spirit than by creating a mini Hobbit Hole wreath?!

Our Content Director Lauren crafted a Tolkien inspired wreath, and below you will find a video showing how she did it! If you scroll down a little, you will find full written instructions too.
 
        YOU WILL NEED
A piece of old cardboard (an old packaging box will work great)
Paint in 3 colours: one for the door, one for the doorknob and a darker colour for the wood details (we used acrylic)
Greenery - evergreen tree greenery that has fallen naturally or purchase from a craft shop
A pencil or pen
String or florist's wire
A bowl, plate or other object to draw around (or you can do this freehand!)
Glue (we used all purpose glue)
Optional: additional greenery such as dried herbs and moss



INSTRUCTIONS
1. Using a small plate or other suitable object, draw a circle onto a piece of cardboard.
2. Using an even smaller plate or bowl, draw a second circle in the centre of the first. This gives you an idea of where the Hobbit door will be in comparison to the wreath.
3. Cut out the cardboard around the line of the larger circle you drew.
4. Paint the cardboard the colour of the door you would like, we chose green!
5. Add a wood effect by painting darker lines vertically down the door.
6. Cut out a small circle for the doorknob (you can do this freehand).
7. Paint the doorknob whichever colour you like (we went with yellow!)
8. Start making the wreath - we did this by attaching small branches by twisting floral wire around the two pieces until they were held together. Keep going until it is as fluffy and full as you desire and you have a full circle to fit the size of your cardboard!
9. Use a pencil or pen to poke two small holes at the top of the cardboard and both sides. You will use these to attach the wreath and the hook to hang it up with.
10. Attach the wreath to the cardboard using floral wire or string tied through the holes that you just created (see video to see how we did this).
11. Optional: Use glue to attach more greenery such as herbs, flowers and moss to the areas of your wreath that have some string or wire on show, to hide this.
12. Glue the doorknob to the centre of the door.
13. Thread some string through the top two holes you made and tie it to create a loop so you can hang your decoration!
Voila! You have a finished Hobbit wreath, perfect for the festive season or to keep all year round. I know we certainly will be keeping this up for the whole year!

If you try this DIY, we would love to see! Post it on social media and tag us at @mythologiecandles, or send us a message with your creation. Happy crafting!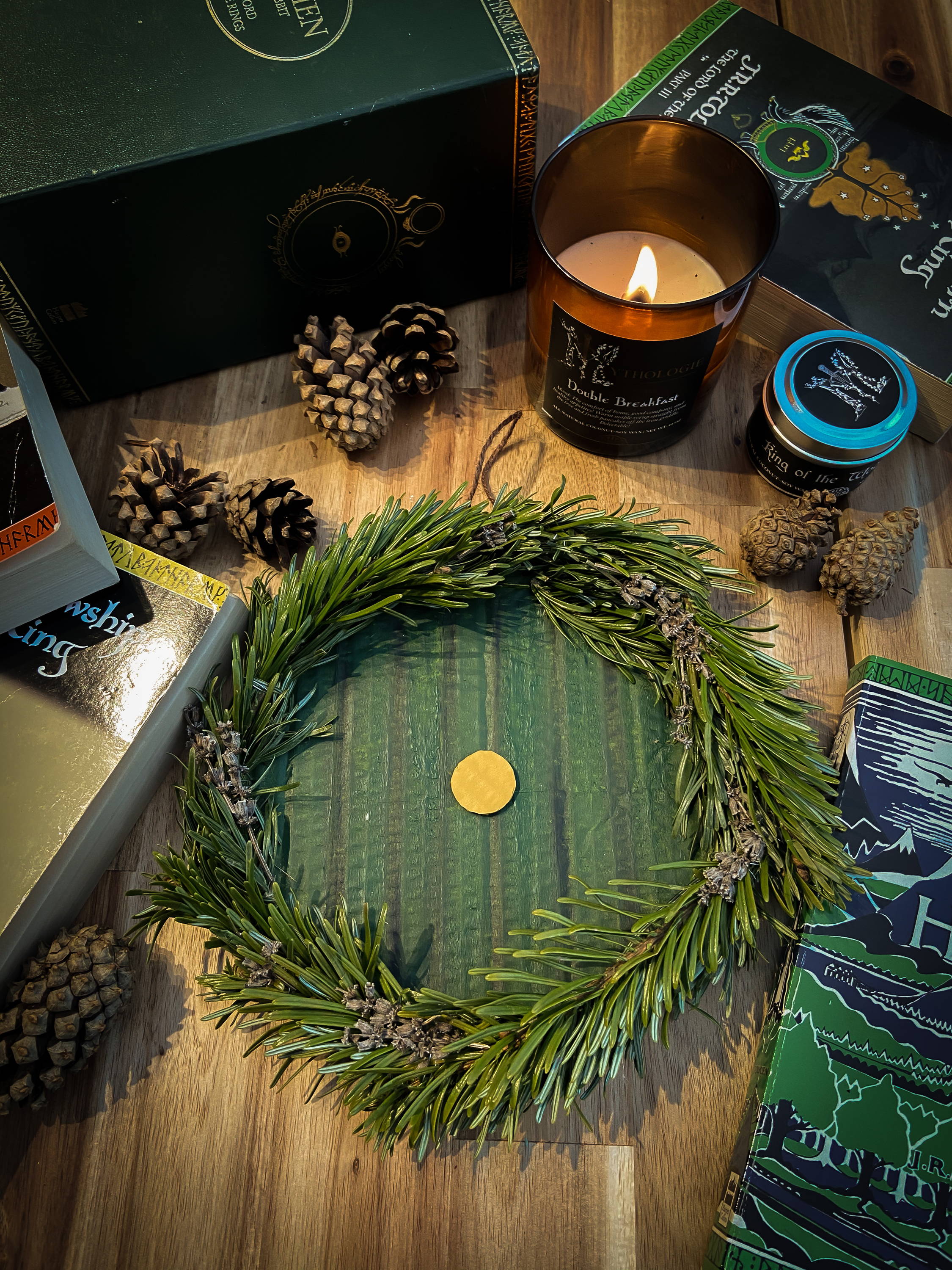 Check out our Tale-inspired candle collection for fantasy scents that set the perfect atmosphere for gaming, watching a movie or dinner parties with friends.


---
1 comment
---
---