At the core of what we do is finding ways to add excitement and enchantment to your life! Scent has a way of creating an atmosphere and mood like nothing else, so we didn't want to just stop at candles! We are super excited to be offering brand new roll-on fragrance oils - coming Monday 17th May!

We spoke to our founder, Leah, about her vision for the fragrance oils and her inspiration behind the scents.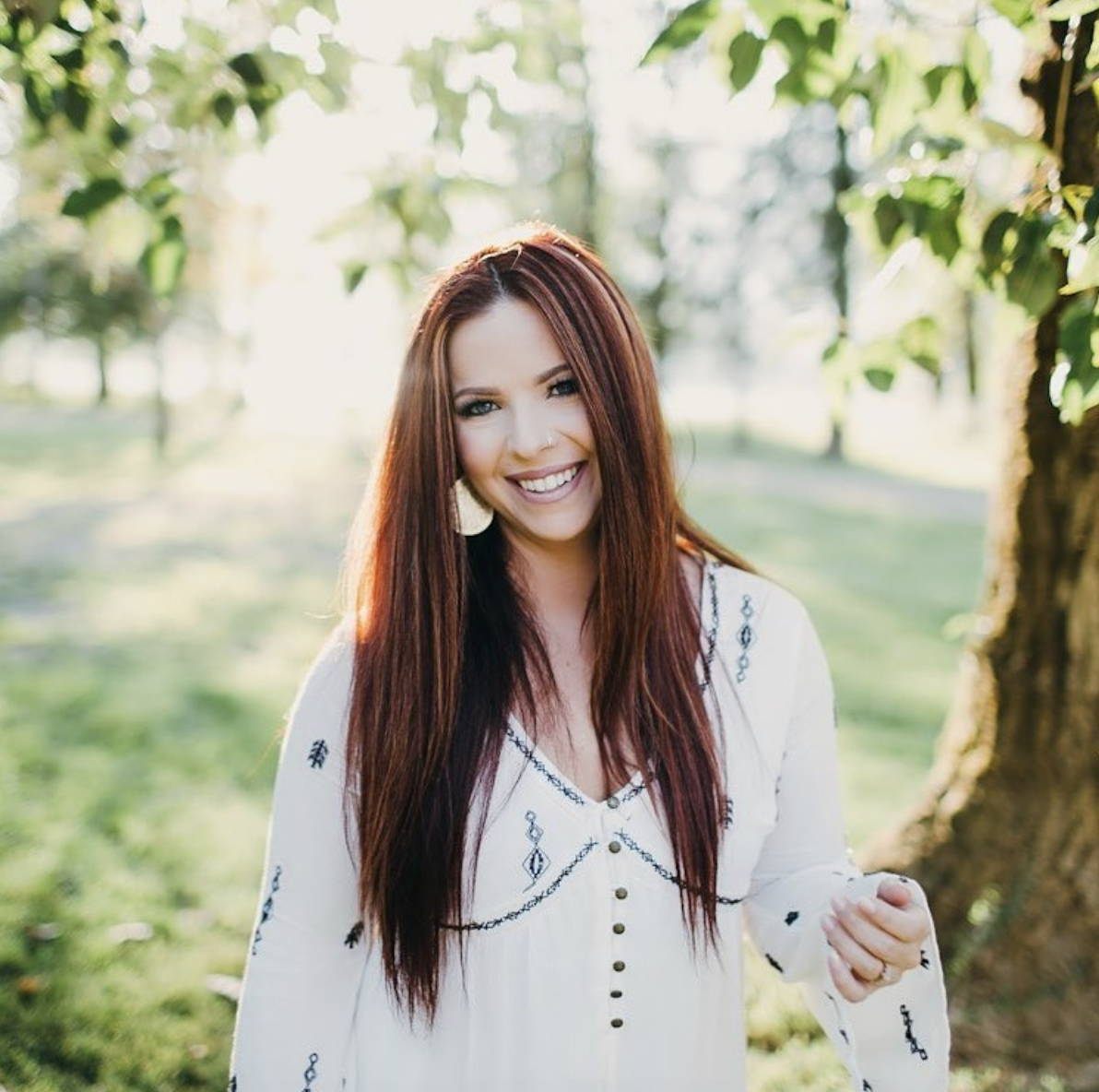 How did you first become interested in history and fantasy?
Like many people, I became fascinated and kind of hypnotized by history & historic fantasy as a child through books and films. I wished I could be in the Arthurian legends, Middle Earth, and Narnia as one of the characters, living inside the stories. I never outgrew it
Why did you decide to start out with a Tale-inspired Collection as well as historical scents when creating the first candles for Mythologie?
I wanted to start with a theme I knew everyone would love and instantly relate to. I figured it would be a good test to see if anyone would like my candles. I guess they did!
What made you decide to release fragrance oils?
We regularly survey and poll our fans & customers for feedback and new ideas. Fragrance oils came up as one of the top-requested products! From there, I polled our Facebook group as to which scents they would like to experience as a roll-on oil and that's how we got the top three we're releasing now!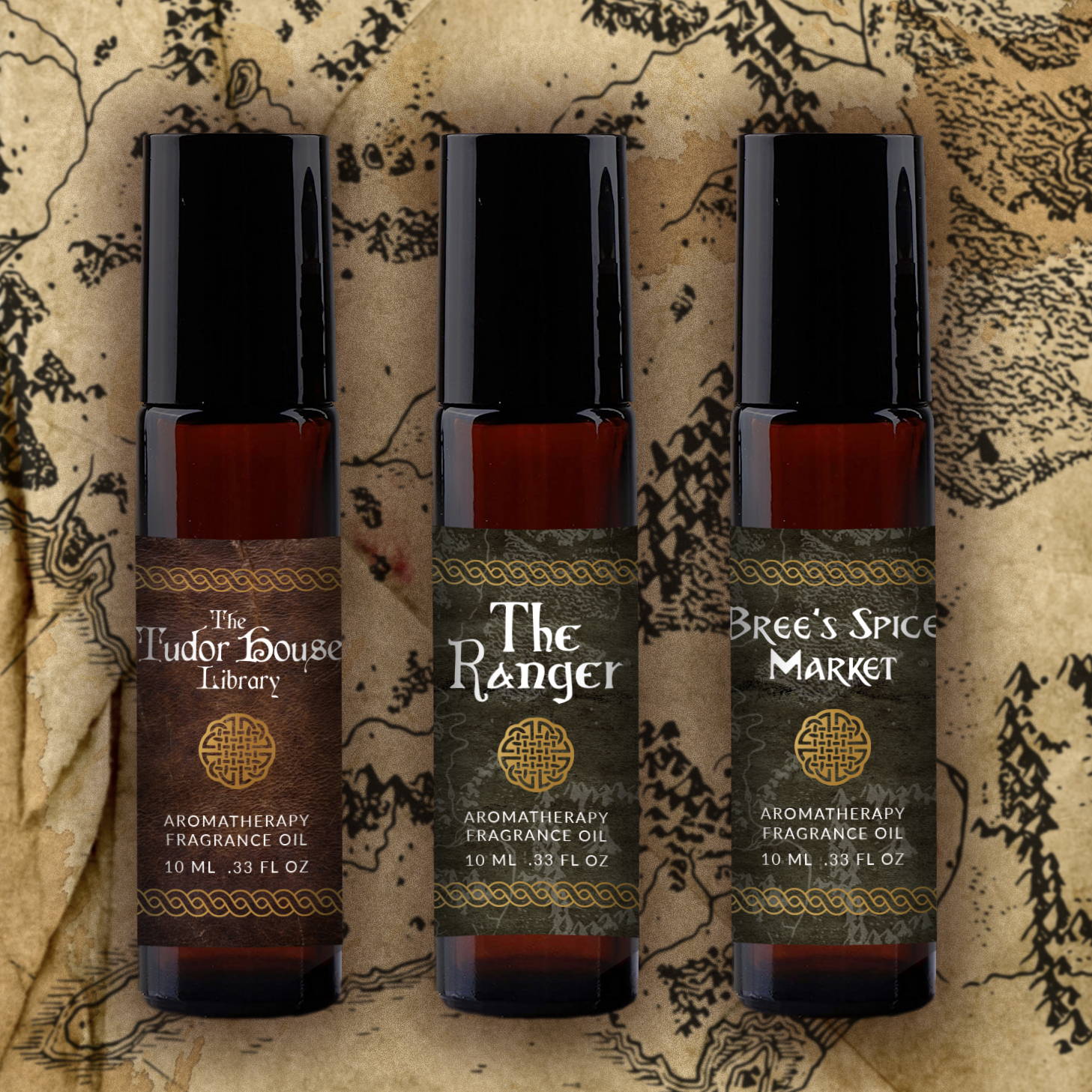 How important was it to create fragrance oils that were not only AMAZING smelling, but natural and body safe too?
I regularly wear essential oils and a lot of them come in roll-on bottles, so it's already a regular practice for me to douse myself in oils - haha! I love the aromatherapy benefits you get from being able to wear your favorite fragrance all over your neck, your wrists, hands, and anywhere else you like.
Also, natural & non-toxic ingredients are really important to me, as someone who has struggled with mystery health issues in the past. I've realized how toxic our world has become and that it's a good idea to not add to our body's toxic load in the form of unhealthy chemicals. So that's why we use the natural ingredients we do in both our candles and our new roll-on fragrance oils, and any other product we ever come out with! I love it if a product can smell AMAZING and also be good for you (or at least non-toxic).
Aside from being non-toxic, I'm working on the formulations of our fragrance oils right now to also have some health and skin benefits! So you'll be able to smell amazing AND feel really good about slathering your whole body in it! 😂

The first three scents voted for by our wonderful customers were Tudor House Library, The Ranger and Bree's Spice Market! Why do you feel it's important to involve them in your decision making?
I love to involve our customers in new ideas and feedback because it helps us make sure we're bringing as much happiness as possible to them, and that's what our mission statement is all about! Our mission statement is literally "We exist to bring happiness to fantasy nerds!" So getting direct feedback helps us do that effectively.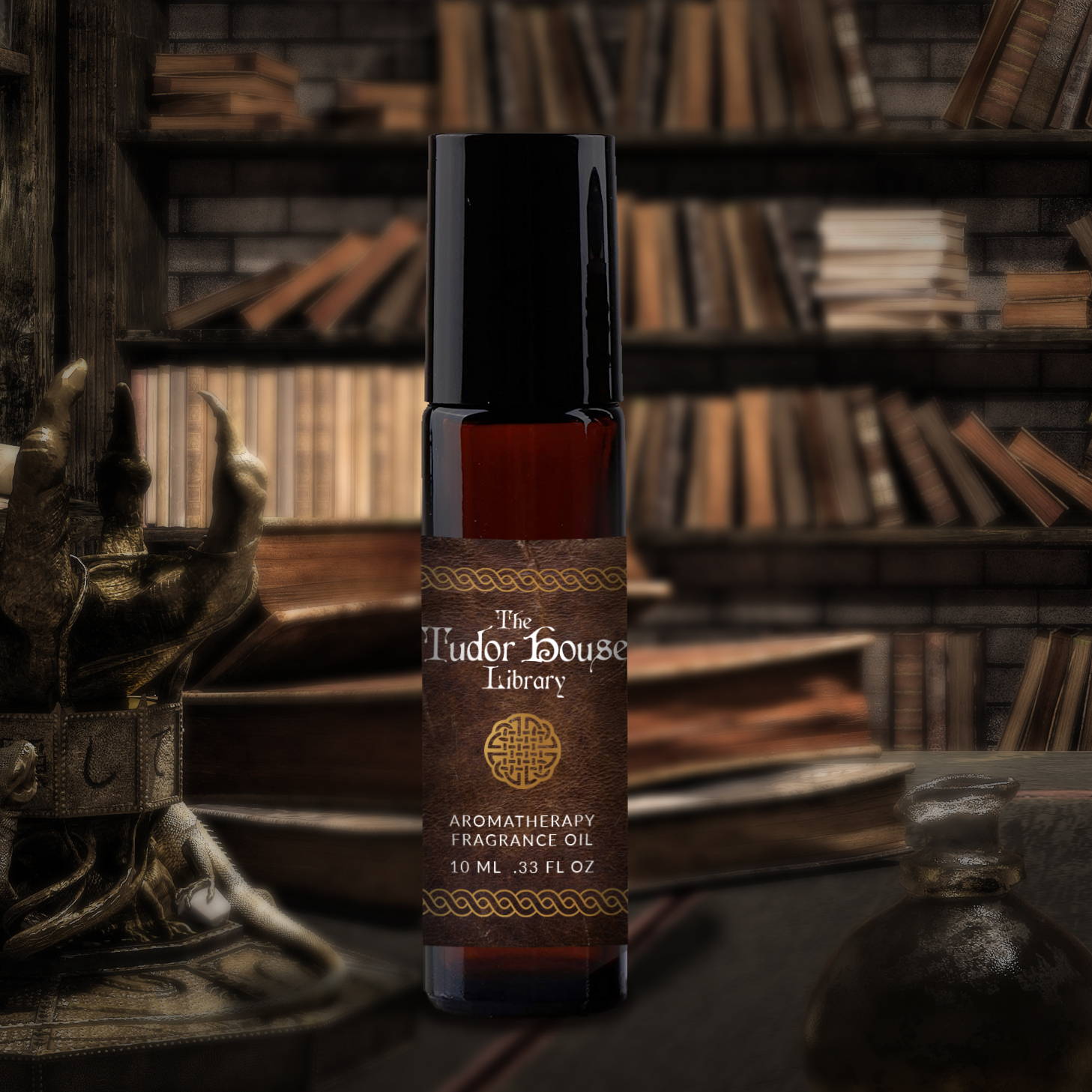 Tudor House Library
Mood: Forbidden books, sunlight streaming through stained glass, aged wood and worn pages.
Notes of patchouli, amber, clove, citrus, musk & vanilla.

What was your inspiration behind the mood for this scent?
This candle was a random one because I first started with the scent that I loved. I thought it was so rich and mysterious and had this old, worn pages vibe... so I came up with the title after the fact. I expect we'll add more to our historical collection in the future.

What atmosphere are you trying to capture with the scent?
For me, the scent is all about the scene. It's an atmosphere of an old worn library in a Tudor-style house. Dark and dim, shelves collecting dust, a ladder on the wall to reach the books high on the wall, cracked brown leather books, a desk, maybe with a quill & ink set, and lanterns to light pages.... with this fragrance you can smell the scene!

Why did you choose those scent notes?
The patchouli and amber are the most prominent notes. Patchouli has earthy, spicy and sweet properties ad has been around for hundreds, if not thousands of years, so it instantly gives a historical vibe.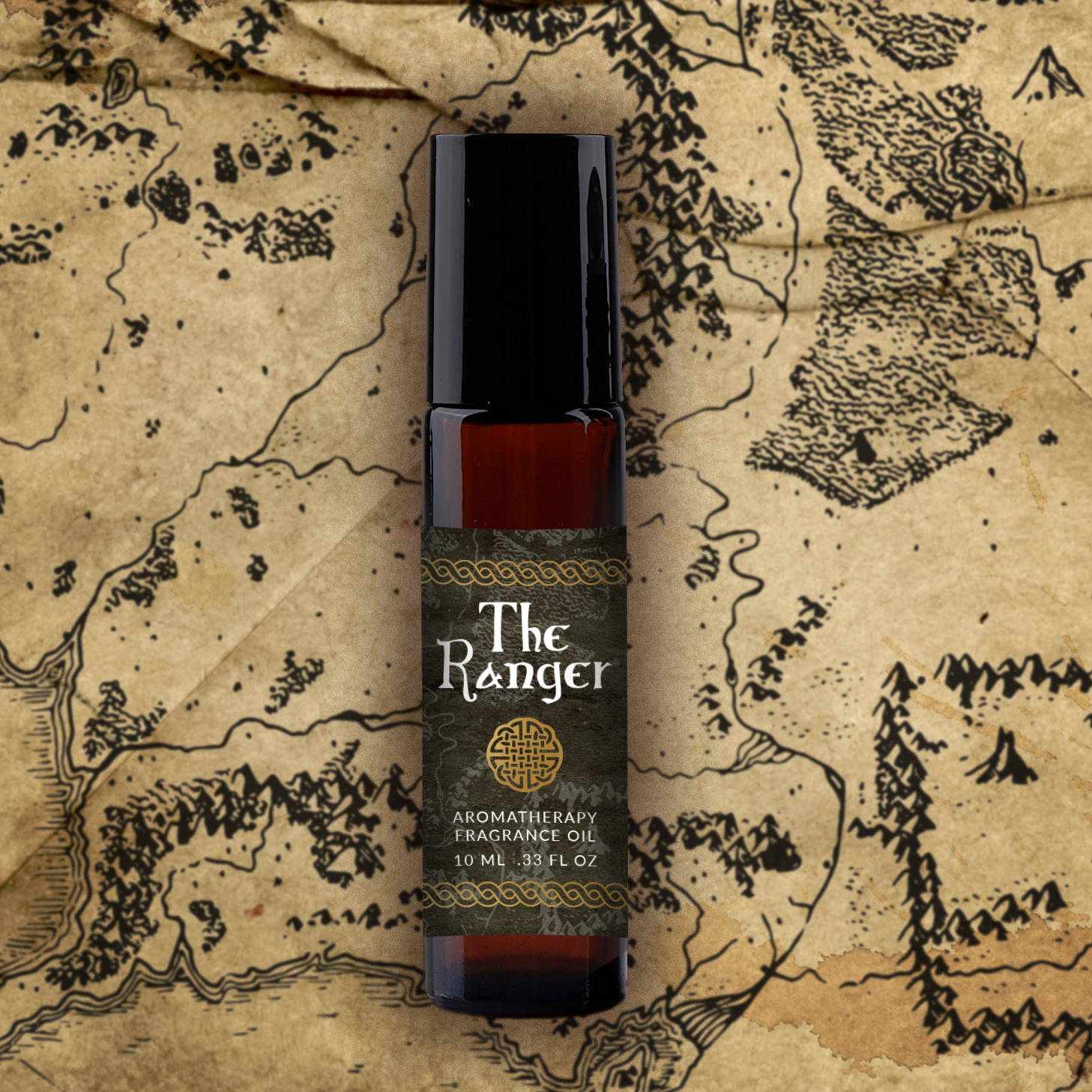 The Ranger
Mood: A mysterious character, a hidden blade, weather-beaten cloak, master of stealth.
Notes of war-beaten leather, earth & leaves, aged bourbon with notes of citrus, clove, cinnamon, sweet vanilla


What was your inspiration behind the mood for this one?
Oh it's definitely a specific hooded & unassuming character from a favorite book/film 😉 🏹🛡️

What atmosphere are you trying to capture with the scent?
I'm wanting to capture what a ranger smells like (on a good day!), mixing materials and environments that represent his life & adventures.

Why did you choose those scent notes?
The most prominent fragrance notes are aged leather, wood, earth, forest, with a hint of aged spirits and spices. Let's be honest, this is as good as a ranger will ever smell! I don't think it would be too popular to make a fragrance that smells like Aragorn after a battle!



Bree's Spice Market
Mood: Where Men and Hobbits dwell. Merchants, messengers & explorers come together to feast and barter.
Notes of citrus peel, clove buds, cinnamon, and sweet vanilla.


What was your inspiration behind the mood for this one?
The inspiration was a specific place, as you know, and the scene is somewhat brief, so I wanted to elaborate in my imagination a little bit through the fragrance.

What atmosphere are you trying to capture with the scent?
I wanted to elaborate on some of the sweet & spicy smells that might come from the local spice market you might find in a village, such as Bree, since it is a place where different races (hobbits, dwarves and men) might congregate and engage in commerce.

Why did you choose those scent notes?
This was another scent that I first fell in love with and then found the matching scene and title afterwards. It's such a rich scent that's warm, spicy, and sweet, with notes of citrus peel, clove buds, cinnamon, and vanilla. It's so cozy, and I know that if I was wandering the streets of Bree and smelled anything like this, I would never leave!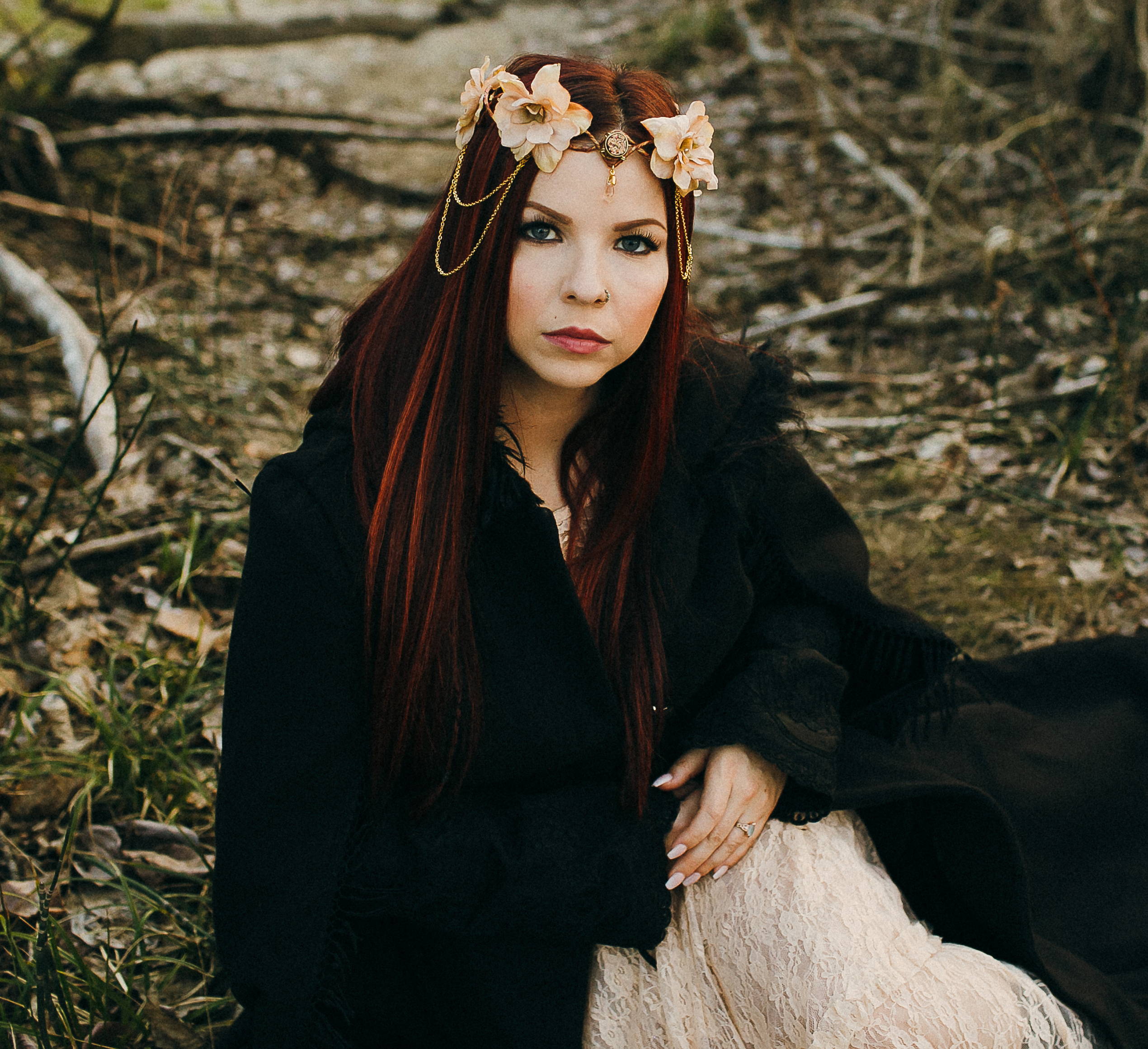 Is there anything else you want to tell our Mythologie heroes?
I'm so excited to involve our fans in the growth and expansion of Mythologie through our fragranced products. We have a lot more in the idea tank at the moment and things are going to become really exciting as we proceed.

In some ways it's been a really bumpy ride as we came out of the gate, having started this whole adventure in March of 2020 and all the really crazy challenges we faced immediately (and still ongoing!).... however, we've come a long way since then!
Sometimes it's hard to believe how brand new we still are. We are incredibly blessed that through all the ups and downs and bumps of this ride our #candlefam has been sooo understanding and supportive along the way. We read your messages, concerns, praises, and feedback in our meetings regularly and take everything to heart!

As we grow, that's one thing I never want to go away... that direct connection with our candle fam is the heart of this business. I think that separates us from other brands out there, and I think we can continue to improve in many ways and make this an incredibly exciting adventure for everyone!
Look out for the brand new roll-on fragrance oils releasing Monday 17th May!


---