Less than two weeks now until Rings of Power releases, we have a new trailer but also some awesome gaming news. . It's a lot to keep up on, but don't worry, we have your back.

Find it all here!
Beacons are Lit!
Illuminating News and Headlines from Middle-earth
We've delved the depths and searched the heights, uncovering the Middle-earth news for you!
Amazon just dropped a new (final?) trailer for Rings of Power.
Watch it here
.
Rings of Power was featured in Time Magazine including new cast photos.
Find out more
.
Lord of the Rings online announced an expansion! Before the Shadow will feature two new 1-32 leveling zones and feature the events leading up to Boromir joining the Fellowship.
Find out more on GameSpot
. 
Mythologie Candles' new Tolkien-Inspired collection, ALLIANCE, launched August 19th for a limited pre-order window (Window closes August 26th). Eight new, immersive candle fragrances designed to enhance Rings of Power viewing and other Middle-earth activities.
This collection includes four unique candle pairings, each representing a location you can expect to see in the Rings of Power as well as a character you can meet there. For instance, Elven Citadel and Mighty Elven Lady pair together to enhance scenes featuring Galadriel.
Enjoy as singles or burn the pairs together to create a totally NEW scent experience! 
Call to the Council
Find sources for discussion and connect with other Tolkien Fans!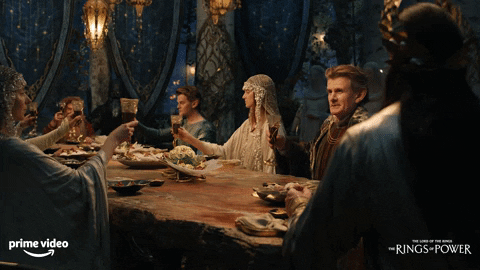 Looking for some great Tolkien-related content, entertainment, and lore?
Search no further.
Fellowship of Fans breaks down some recent Rings of Power leaks and what they might mean for the show and lore.
Watch them here
.
Nerd of the Rings is hosting a watch party for episodes 1 & 2 of Rings of Power. Experience the premiere with other fans starting at 8:30pm ET on YouTube.
RSVP here
. 
Creator Spotlight
Brilliant Creatives and Knowledgeable Voices from the Tolkien-Sphere
Looking for More Tolkien Content? This is where every week we will recommend a (hopefully new to you!) creator or community devoted to Tolkien-related content.
Want deep-iceberg-tier Lord of the Rings facts? Don Marshall, AKA Obscure LotR Facts Guy has you covered!
Enjoy his enthusiastic, entertaining, and educational content
on TikTok
. 
Do YOU have a favorite Tolkien-themed content creator?
We'd love to hear about them and check them out!
 Cosplay Stars! 
Creative Cosplayers and Performers.
Katie, AKA @littlemissfruitkates, is a Hobbitcore enthusiast and influencer who makes the cutest Hobbit Lass!


---