This weekend is the big premiere for Rings of Power (unless you were lucky enough to make the screening!). Are you excited? 

Find it all here!
Beacons are Lit!
Illuminating News and Headlines from Middle-earth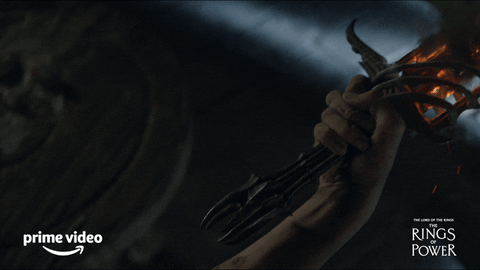 We've delved the depths and searched the heights, uncovering the Middle-earth news for you!

Still have questions about Rings of Power? The AV Club has an interesting article breaking down some of the lore and the production history. Read it here. 


Who IS the mysterious raggedy man we see in Rings of Power trailers and images. The Verge believes they know. Do you think they're right? Read the article here.

Mythologie Candles is running a Middle-earth themed candle giveaway! You can enter to win their entire Atlas Collection of 9 unique, eco-friendly fantasy-inspired candles both on TikTok and Instagram (to double your chances!). Ends September 2nd, 2022.
Call to the Council

Find sources for discussion and connect with other Tolkien Fans!
Looking for some great Tolkien-related content, entertainment, and lore?
Search no further.
Tea with Tolkien attended a special screening of the first two episodes of Rings of Power in NYC.
See what she had to say
.
Nerd of the Rings and Don Marshall and LaurenDoesCosplay all also made the screenings! Check out their Instagram posts
HERE
and
HERE
 and
HERE
.
Not afraid of spoilers? TheOneRing.net put together a super cut of all the available footage so far which they believe gives clues to significant plot point.
Watch at your own risk here
.
Creator Spotlight
Brilliant Creatives and Knowledgeable Voices from the Tolkien-Sphere
Looking for More Tolkien Content? This is where every week we will recommend a (hopefully new to you!) creator or community devoted to Tolkien-related content.

Want a visual guide to Tolkien's world? LotrProject has you covered!

Lord of the Rings Project, commonly shortened LotrProject, is a creative web project dedicated to the works of J.R.R. Tolkien. It is perhaps most known for the extensive and ever updating genealogy, the historical timeline of Middle-Earth and the statistics of the population of Middle-Earth.

Check out the site!

Do YOU have a favorite Tolkien-themed content creator?

We'd love to hear about them and check them out!
 Cosplay Stars! 
Creative Cosplayers and Performers.
Hayley, AKA @hobbitparty, is a YA Librarian who also does awesome Cosplays. Check our her Instagram, including her awesome
Harfoot photoshoot
. 
Are you a cosplayer who would like to be featured in our newsletter? Reply to this email and let us know!
---