It's a dangerous business, opening your email. You never know where you might get swept off to.

Let's see where we can take you this week!
Beacons are Lit!
Illuminating News and Headlines from Middle-earth
We've delved the depths and searched the heights, uncovering the Middle-earth news for you!
How did the Lord of the Rings and connected works come to be? The Smithsonian released an article about Tolkien's inspiration and influences. Read it here.

Have you been thinking abut playing Lord of the Rings Online? Standing Stone Games just announced a MAJOR opportunity to get previous quest packs for free. Just use Coupon Code FREEQUESTS2022 in their store. Find out more.
Need help getting to Middle-earth? Last week Mythologie Candles restocked their ATLAS candle collection including nine deluxe candles inspired by the realms of Middle-earth. Discover the scents!
Call to the Council
Find sources for discussion and connect with other Tolkien Fans!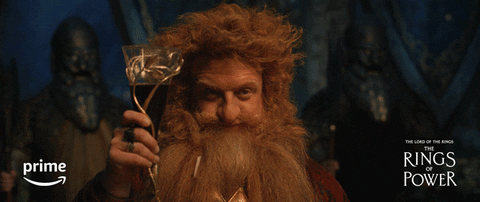 Looking for some great Tolkien-related content, entertainment, and lore?
Search no further.

Nerd of the Rings keeps us up to date with Rings of Power episode breakdowns. Catch up with Episode 5 and Episode 6 on YouTube!

Are you a crafter? Want to try your hand at making your own Harfoot Lantern? Watch this tutorial by Lizabet Roberts on TikTok.

How about a fun cosplay transformation? Lizabet ALSO turned her husband into the Rings of Power's "The Stranger" and showed us how step-by-step. Watch on TikTok.
Creator Spotlight
Brilliant Creatives and Knowledgeable Voices from the Tolkien-Sphere
Looking for More Tolkien Content? This is where every week we will recommend a (hopefully new to you!) creator or community devoted to Tolkien-related content.

Need to unwind? Want to turn your chill out time into a fantastical experience?

YouTuber ASMR Weekly posts excellent videos from scripted roleplays to atmospheric ambiance compilations … and his Lord of the Rings ones are some of the best out there! We suspect the guy really is a Hobbit. 

Check out the channel!

Do YOU have a favorite Tolkien-themed content creator?

We'd love to hear about them and check them out!
 Cosplay Stars! 
Creative Cosplayers and Performers.
Cait @honeyswordcosplay created this elegant Galadriel Cosplay, including the dagger she crafted herself. It's gorgeous!

Check it out HERE.
---