The first two episodes of Rings of Power are out and theories and opinions are flying. Did you get a chance to watch the show? We've gathered some of the hot takes from Tolkien experts along with other awesome related news and entertainment.

Find it all here!
Beacons are Lit!
Illuminating News and Headlines from Middle-earth
We've delved the depths and searched the heights, uncovering the Middle-earth news for you!
Want to know some of the differences between the books and the Amazon show? Mashable has a breakdown of the three biggest variations.
Read it here
.
Are you a fan of monsters? Check out this Nerdist article of some of the creatures you'll see in Rings of Power.
Read it here
.
Call to the Council
Find sources for discussion and connect with other Tolkien Fans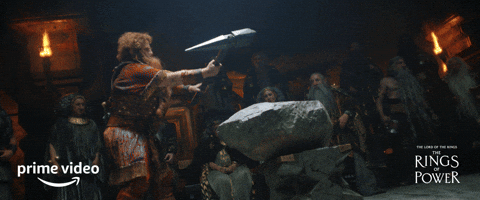 Looking for some great Tolkien-related content, entertainment, and lore?
Search no further.
Lauren Does Cosplay recently shared her reaction to Charlie Vickers (Halbrand from Rings of Power) talking about her Galadriel cosplay during an interview.
Watch it here
.
Nerd of the Rings broke down the first two episodes of the show on his YouTube channel. Watch the episode one breakdown
HERE
and episode two
HERE
. If you'd prefer a spoiler free version, check out
this one
.
One of our Mythologie Heroes got a chance to attend the Rings of Power premiere and enjoyed a discussion with The Tolkien Professor. Check out the pictures
on Facebook
.
Author Pete Peterson discusses the Tolkien's concept of "The Cauldron of Story" in this
Christianity Today article
.
Creator Spotlight
Brilliant Creatives and Knowledgeable Voices from the Tolkien-Sphere 
Looking for More Tolkien Content? This is where every week we will recommend a (hopefully new to you!) creator or community devoted to Tolkien-related content.
Want more Tolkien related articles, maps, and even travel pictures! Check out the
Traveling Tolkienist
!
Marcel Aubron-Bülles is a Tolkienist visionary loving volunteer work with the Tolkien fandom worldwide. He has founded the German Tolkien Society, one of the world's largest Tolkien socities, is the co-founder of Ring*Con, Europe's formerly largest fantasy film convention and an administrator with the International Tolkien Fellowship.
His work has appeared in Amon Hen, Mallorn, Der Flammfer von Westernis, Minas Tirith, Tolkien Studies, Hither Shore, J.R.R. Tolkien Encyclopedia, Phantastik-Couch.de and NAUTILUS. "The Tolkienist" is his new vision of bringing together Tolkien fan communities from all over the world, stressing the importance of J.R.R. Tolkien's visionary genius and creativity.
Check out the site!
Do YOU have a favorite Tolkien-themed content creator?
We'd love to hear about them and check them out!
Cosplay Stars!
Creative Cosplayers and Performers. 
We've featured Lauren Does Cosplay before, but we haven't shown her amazing TikToks, and you NEED to see these!
See how she forged her sword and became Galadriel! Watch
HERE
and
HERE
.
---