Meet a Cottagecore NPC
Guest post by McNeil Inksmudge
Like a nest cozily fitted between branches, a charming stone cottage rests between the birches of a thicket. On its thatched roof, swallows and robins sing their merriment. A pair of swans drift together in an adjacent pond. Smoke gently puffs from its chimney, and you imagine it smells like sandalwood, golden amber, and rustic cedar chips.
Your curiosity about the place and its undoubtedly quaint inhabitant draw you in. A fawn lifts her head from munching grass to look at you, but she doesn't flee. The birds notice you, but they continue their song. It's as if the animals here are enchanted. Perhaps they've only had the blessing of fair company and don't have a reason to fear man.
You follow a winding path of cobblestones that divide the forest lawn, and lead to a blue door with a round window. It stands betwixt the burgeoning flowers and bushy hedges that line the home. Lavender, nasturtiums, pansies, and yarrow grow out under the windows. Ivy grows draped over the lee side of the home where there was a break in the tree canopy.
As you approach the door you notice an ornate handle that seems out of place on the cottage, possibly from a far-off land or the owner's past life. You knock, eager to meet whoever lives such a peaceful life. Not a moment later, the door opens, as if guests were expected. An elderly tiefling stands in the entryway holding a broom with her purple tail. Her cheeks are bright with warmth, and her gold eyes shine next to her crowfeet wrinkles that undoubtedly grew from abundant laughter. Her ram's horns crown her long grey hair, which is bunched into a hasty bun. Her long blue dress loosely fits over her plump body. She looks like a grandmother you wish you had.
"O, good morning! I was so hopeful I might have the chance to talk to someone today! And here thou art! I beg thee, come in!"
You step inside and behold a well-kept, but crowded domicile. Every space is used for books, yarn, potted plants, cookware, dishes, benches, chairs, and the like. Even the walls barely had space to peek through the tapestries and dried herbs. Ivy had somehow snuck its way to the inside and clung to the corners and ceiling.
She leads you down the hall past several cozy rooms, each with their own woven rugs. When you pass the kitchen you see the kettle is steaming in the blazing hearth, and fresh shortbread biscuits are cooling next to it. In the main room, she picks up a rabbit sitting on a bench in a window nook and bids you sit down. She begs your pardon as she whisks away, letting down the rabbit on her way to the kitchen. The glass overlooks a grand garden, alive with bees sampling its nectar. Several manmade hives dot the lawn.
Your attention is brought back inside when she returns with a tray fully laden. She pours your cup full and steam blooms out. She asks if you prefer honey, lemon, or both. You answer and she pulls a dipper from its jar and lets golden opacity drizzle into your tea.
Even as she hands it to you, the aroma soothes you with its complex notes of strongroot, mayweed, cat's cress, rose haw, and elven slumber flower. You take a sip and sink into the down cushions.
She relates to you in a melodic voice how well her garden is tending this season, and how the bees have returned in greater production. Its helped her much in trade with the meadery, which sends a boy and cart by once a nineday. She has an arrangement with them and the butcher that saves her a trip into the village. She assures you with a youthful giggle that she loves people, but finds greater peace of mind if she doesn't have to jostle among them at the market. She gazes out the window wistfully, and your eyes follow. The pair of you watch the winged animals dance for a quiet moment.
"What bringeth thee hither, child?" she asks.
You demure, since you feel more at home than you have in several lunations. You hope to prolong it by chatting about how heavenly this forest felt and it drew you in. She keenly sees that you direly need this, and lets you.
You tell her of how it reminds you of when you were a child and would sit on the back of your father's cart as he brought the family wares to sell in town; how you'd watch the countryside pass and all its wildflowers.
But then your quest's urgency gets the better of you, and you feel dishonest for omitting it from her. You tell her why you came, and she relates that many travelers have come by this way in that manner. She acquiesces and sets down her cup gently before springing out of her seat to get the necessary materials.
Explore our Cottagecore collection! Three amazing, cozy new candle fragrances!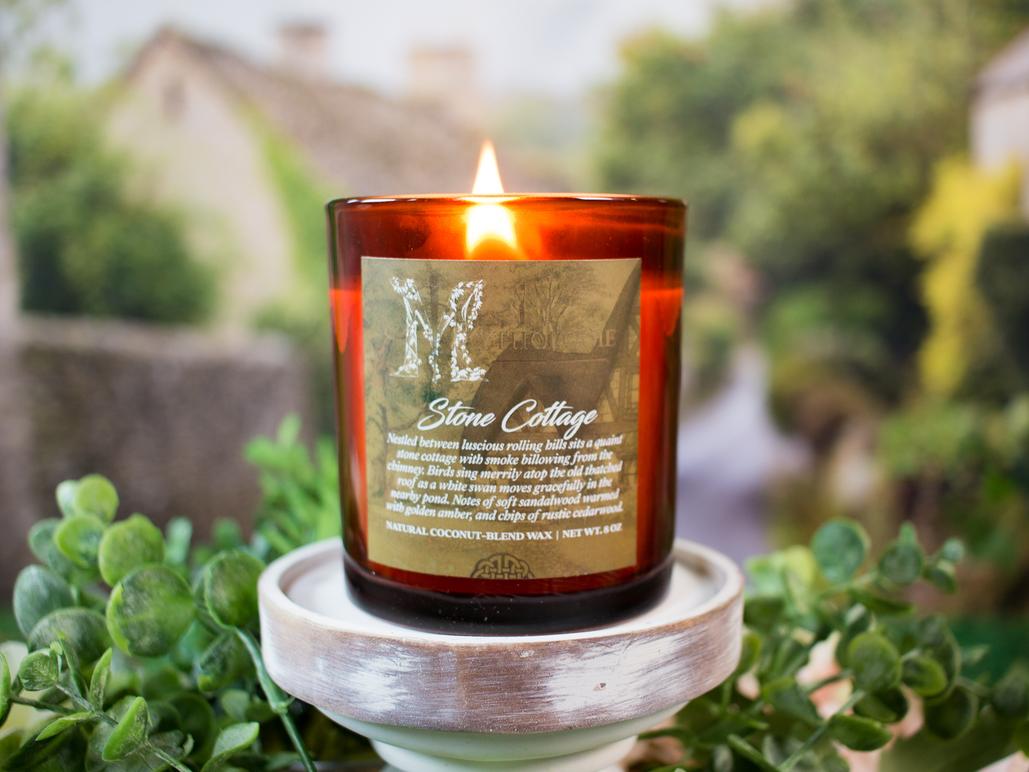 STONE COTTAGE
 Notes of soft sandalwood warmed with golden amber and chips of rustic cedarwood.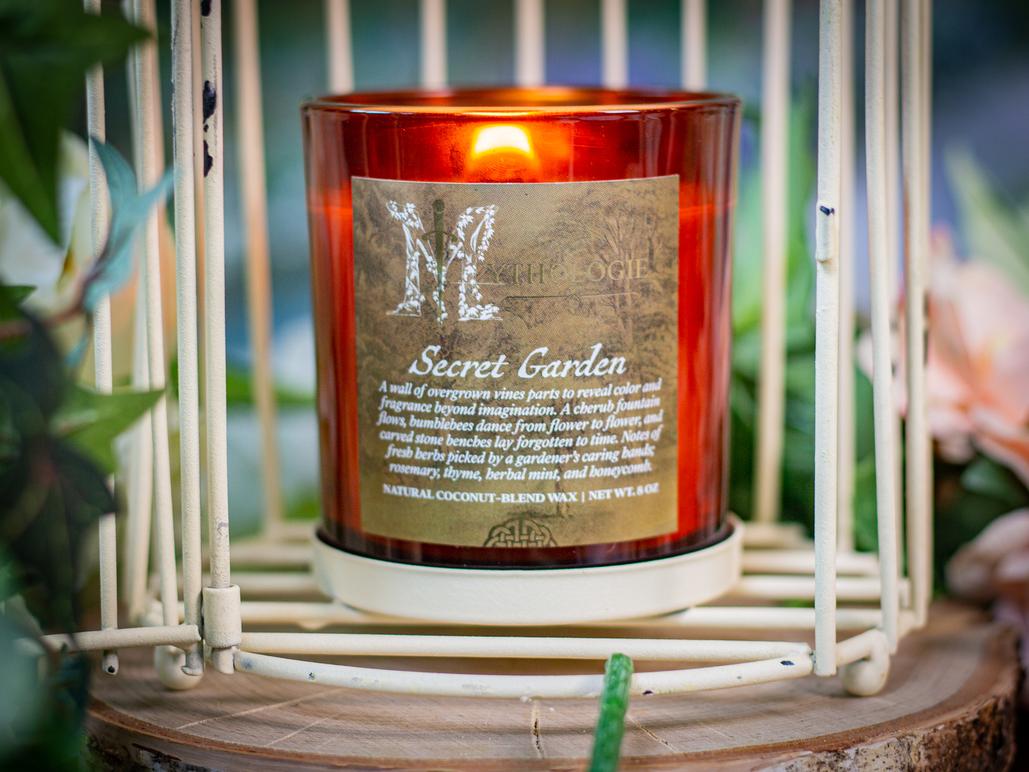 SECRET GARDEN
Notes of fresh herbs picked by a gardener's caring hands; rosemary, thyme, and herbal mint with a slice of honeycomb.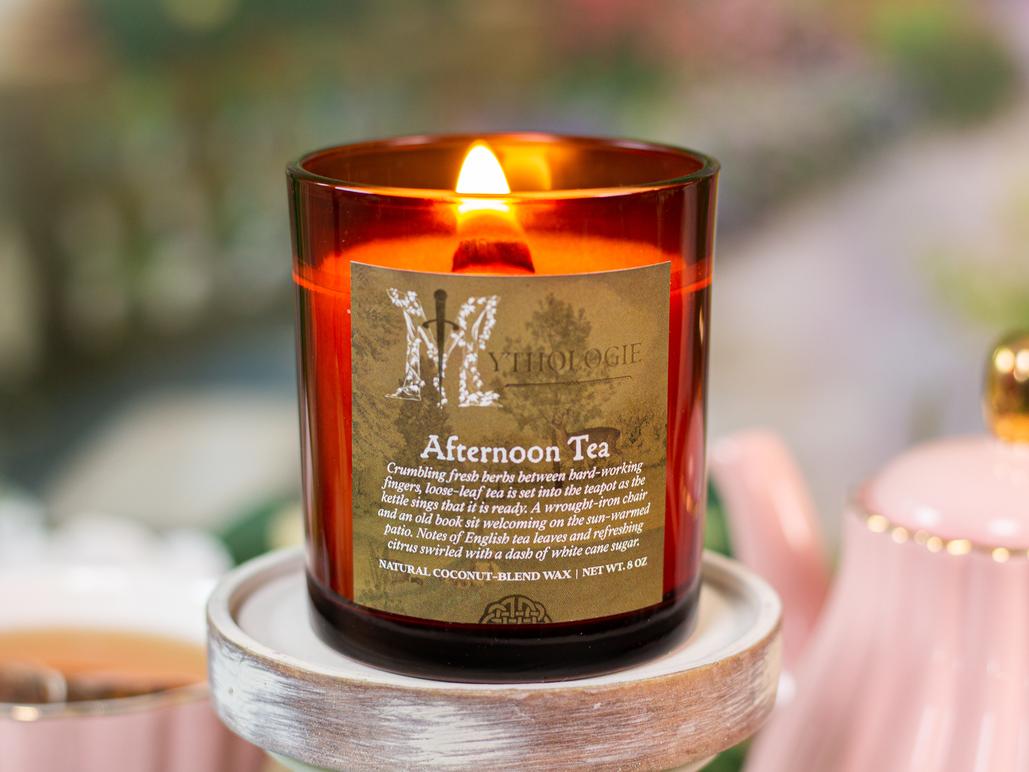 AFTERNOON TEA
Notes of English tea leaves and refreshing citrus swirled with a dash of white cane sugar.