How to Curate a Cottagecore Wardrobe
Over the past few years, the growth of the Cottagecore aesthetic and lifestyle has taken off as consumers demand more sustainable fashion and explore simple living and its benefits. Many consumers have adopted a focus on clothes and brands that serve their needs rather than feeling beholden to standards set by the fashion industry or society as a whole.
Why choose cottagecore fashion?
The Cottagecore aesthetic is about a simpler life which includes sustainable fashion. This means rejecting the ever changing, fast fashion consumerism encouraged by the fashion industry.
Cottagecore is not about creating an expansive wardrobe filled with endless clothing options, but rather making conscious choices of key statement pieces you love and crafting multiple looks around them.
It's sustainable, simple, and economical!
You want every item in your Cottagecore fashion stash to be something you love, will wear repeatedly, and that is built to last. We're no longer consumers of fashion brands but curators, not giving into industry trends, but instead setting an example with conscious fashion choices that celebrate creativity and self expression while rejecting waste and out of control consumption!
You're making a statement not just in fashion, but with every choice that reveals something unique about you and your values. You can bring this lifestyle not only into your clothes, but also every aspect of your life, surrounding yourself with the comforting, the sustainable, and the cozy, through clothes, décor, and even lighting themed scented candles like the High Cottage collection.
Its benefits include simplifying your life, reducing carbon emissions, saving the environment and planet (and a little money), and expressing yourself.
Don't forget, if you love cozy vibes, small brands, and sustainability, the High Cottage candle line will help you turn your home into a cozy haven with luxurious but eco-friendly candles such as Clothespins & Quilts!
Cottagecore fashion makes your life easier.
By reducing your clothing options, you create more time for yourself. Decision fatigue is a real thing, so simplifying your wardrobe into a few statement pieces of clothes that you adore will make your life easier!
It will also free up space in your closet and reduce your need to shop for brand new pieces in the long term.
Cottagecore fashion is better for the environment.
Fast fashion has us on a constant conveyer belt of purchasing items only to toss them later and spend more on something new. It's an industry reliant on constant growth, consumerism, and frequent change.
This system of constant production has a massive environmental impact on our planet from increased carbon emissions to the waste of clothing being discarded into landfills.
If we are to address the harms of fast fashion, we need to present an alternative, and sustainable fashion, such as the Cottagecore lifestyle champions, is one such option.
If you care about the environmental impact of your purchases, keep in mind that Mythologie Candles is committed to using no plastic in their packaging materials and using sustainable production methods. You can find out more in our Candle Creed.
Cottagecore fashion is better for your wallet.
While we may love to shop, changes in the market, supply chain, consumer demand, and the world overall have made budget-friendly choices more important than ever.
Sustainable practices are not just for environmental impact. They can benefit your bottom line. Instead of throwing clothes out and constantly replacing unwanted items, you will build a closet of things to keep forever.
Express yourself with Cottagecore fashion.
When you love every piece of clothing you own, each item becomes more than a piece of cloth. It becomes a story, a statement piece that says something about you and what you are committed to.
No longer influenced by the fashion industry, you can focus on who you are and what brings you joy.
For example, you can create an entire mood around your outfits! Theme them with your favorite books or your home décor or even your favorite fragrances. Place flower arrangements and light an I Dream in Lavender candle to get your whole home in the vibe.
If you're all about houseplants, growing things, and clothes you can wear while gardening, get out your Green Thumb candle.
Let's take a closer look at how to put together our brand new closet system.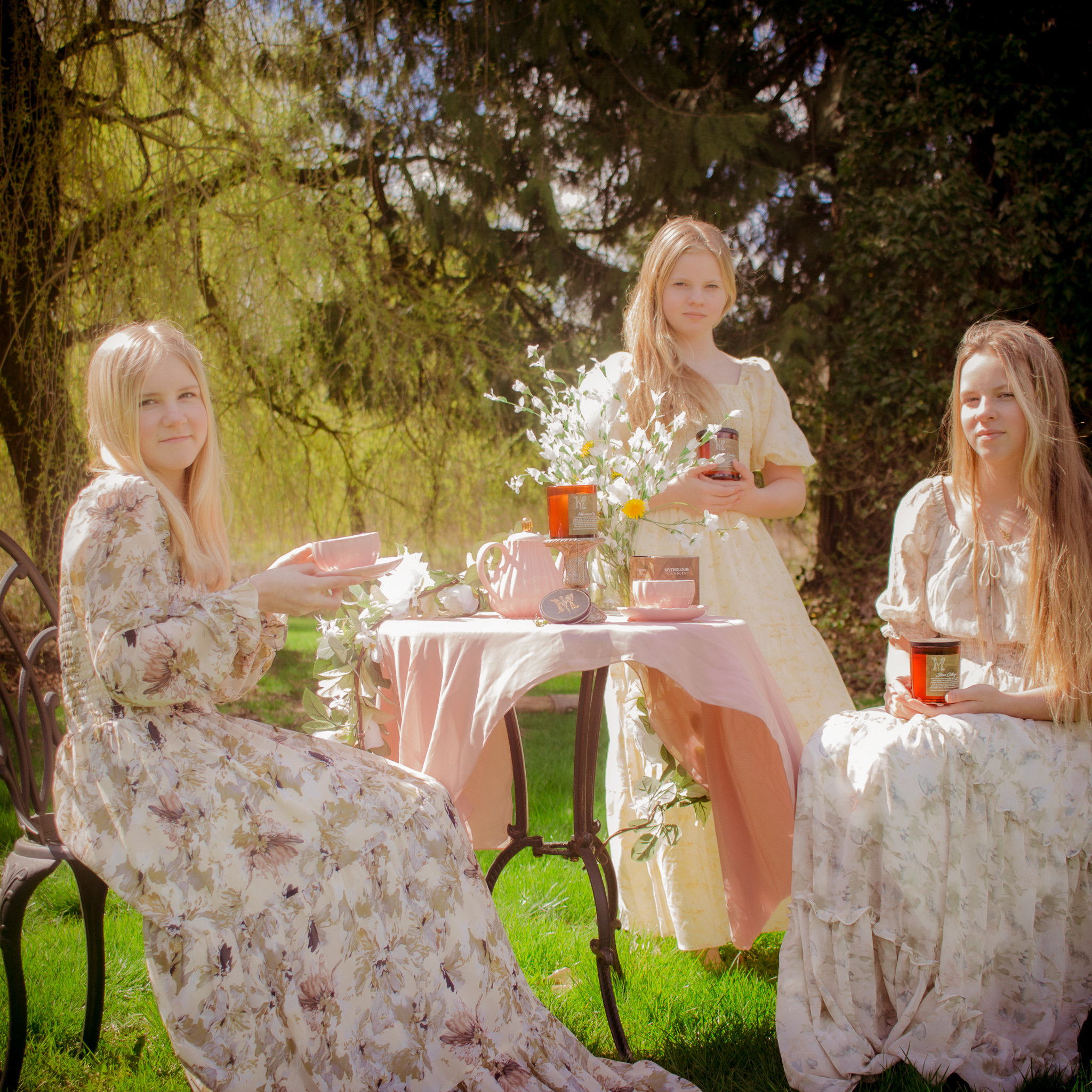 7 Easy Steps to Crafting Your Cottagecore Outfits:
1. Gather inspiration.
Starting your shopping with an idea of what you already like will make it simpler for you to decide what you really want to wear.
Set the mood for your inspiration gathering! Put on some music that speaks to you and light a candle to set the vibe (we suggest anything from our High Cottage line).
Pinterest is a great source, but you can also get ideas browsing sites like Etsy.
Which creators on social media inspire you? What is it about their look that catches your eye?
Is your look vintage—faded jeans and classic silhouettes—or farmgirl with more details and a focus on natural materials like leather and wool which are often staples in sustainable fashion.
Where do you plan to shop? Primarily online or do you have local resources to explore?
Start a list of likes and dislikes. What do you dream of wearing?
2. Pick your color palette
Cottagecore looks are not restricted to a single color. While lighter colors are the norm, you can find Cottagecore fashion in both pastels and earth tones.
Off whites are also popular for that "linen" look. You may want more than one color palette in your overall wardrobe, but if you approach it in terms of outfits (for instance you have an earth-tone outfit and a pastel outfit), then you know you're buying pieces that will go well together.
3. Consider texture.
Cottagecore often focuses around light, comfortable, natural materials. Textiles like linen, cotton, wool, and lace are definitely on theme. You can also go for cozy, light-knit fabrics, but you'll get more long-term use out of sturdier ones.
4. Set a budget
If you have more to spend, shopping independent creators and brands is the way to go. Not only will you support small business owners, but you'll get one-of-a-kind bespoke pieces that often last longer, due to better material and craftsmanship, than items mass-produced, and fast-fashion brands. Saving up for one show-stopper piece you can craft multiple looks around can also be a good approach.
Comb thrift and vintage shops. If you know the color and texture you're looking for, you can browse overstuffed thrift store racks just looking for those two elements to speed up your shopping. Remember, items can be tailored. Learning to do your own tailoring will be a major aid to your budget, but setting aside funds to have clothes hemmed or taken in will open up your options.
By investing in a sustainable fashion wardrobe, you're actually saving money over time as you make the shift from replacing garments based on fashion industry trends to embracing the power of fashion sustainability with Cottagecore outfits you love and will wear over and over again!
5. Gather your staples.
Some essential Cottagecore items include:
Peasant Blouses:
These can be dressed up for multiple looks. If you find a source, you may wish to have more than one of these so you're not left shirtless on laundry day.
The Perfect Dress:
Pinafore Dresses, Smock Dresses, and Maxi-Dresses are all within the Cottagecore wheelhouse. Mix and match a few favorites or find the one dress or style that makes you feel cozy, comfortable, and cute.
The Perfect Sweater:
Layering is a major part of the aesthetic. Throwing a comfy sweater over a sundress can create an entirely new look.
Trousers
Perhaps dresses aren't your style. A pair of brown corduroy pants or flowy wide-legged trousers—even a pair of broken-in jeans with applique patches on the knees—can easily be adapted for this look. You may want at least one pair in your wardrobe.
Sturdy, Wearable Shoes
Old fashioned boots that button or lace up, shining Mary Janes, and t-strap heels finish off any outfit. Consider leather for its sustainable, sturdy nature.
6. Keep an eye out for accessories.
Flower crowns, hair ribbons, and dangly earrings can add that little something extra to a look. Headscarves and hats are also charming additions to a Cottagecore outfit. Dress it up with scarves, jewelry, broaches, and belts.
7. Other Cottagecore elements:
The beauty of this aesthetic is in the small details.
Some finishing touches:
Eyelet embroidery

Interesting fasteners/buttons

Collars, especially Peter Pan or Ruffles

Lace

Embroidery

Ribbons

Smocking
If you're crafty, you can "Cottagecore up" a basic piece by adding accents and appliques. Attach a lace collar to a plain sweater and give it a whole new life!
Congratulations! You now have a Cottagecore wardrobe!
You've spent all this time settling on your signature style, but have you considered a signature candle?
We've got the perfect fragrances for burning while browsing Pinterest or altering your thrift store finds. Get cozy with "Clothespins & Quilts" or spread dreamy fragrance through your home with "I Dream in Lavender."
These candles will bring your Cottagecore visions to life! Explore the High Cottage collection. Let our candles provide you with inspiration and relaxation, all with the assurance that your purchase won't harm the planet.
Discover High Cottage Candles.
---
1 comment
---
---