Spring has returned to the Shire!

How are you celebrating this season?

In the spirit of Tolkien, we do suggest getting out to enjoy gardens and nature. Maybe have a little bit of an adventure.

If it's raining where you are (or you just feel like staying in), though, we've got some Tolkien-y things to explore from the comfort of your own home.
Beacons are Lit!
Illuminating News and Headlines from Middle-earth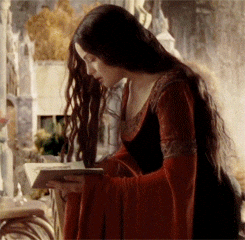 We've delved the depths and searched the heights, uncovering the Middle-earth news for you!
Lord of the Rings Online players, don't miss the 16th Anniversary Event. Starting April 20th and running through May 11th, the game will be hosting scavenger hunts, giving you an excuse to re-discover the digital realms of Middle-earth. 

To celebrate its 20th anniversary, the Return of the King will be returning to theaters in April! Even better, this will be the EXTENDED EDITION! Find out more from ScreenRant.

Looking forward to the Gollum game? It's almost here! The current release date is May 25th. For more of an update, check out this article from Engadget.
Call to the Council
Find sources for discussion and connect with other Tolkien Fans!
Looking for some great Tolkien-related content, entertainment, and lore?
Search no further.

Creator LaurenDoesCosplay put together the Rivendell Lego set. Watch the process and see her geek out over the details on Instagram.

With news of new Middle-earth films in the works, we have to wonder, what stories will they adapt? Men of the West breaks down his Top 10 picks for potential adaptations. Watch it on YouTube.

Congratulations to Kaitlyn of Tea with Tolkien! Her blog has been shortlisted for the 2023 Tolkien Society Awards in the "Best Online Content" category. Find out more and leave your congratulations on her blog.
Creator Spotlight

Brilliant Creatives and Knowledgeable Voices from the Tolkien-Sphere
Looking for More Tolkien Content? This is where every week we will recommend a (hopefully new to you!) creator or community devoted to Tolkien-related content.

Do you love fantasy themed art?

Artist Annie Stegg Gerard posts awesome painting videos.

Watch her paint a Dwarf here.

Discover her portfolio.

Do YOU have a favorite Tolkien-themed content creator?

We'd love to hear about them and check them out!
 Cosplay Stars! 
Creative Cosplayers and Performers.
---