Last week San Diego Comic-Con arrived and with it came big announcements and reveals across the Geek World. We've tracked down the top stories for you.

Are you ready to explore?
Beacons are Lit!
Illuminating News and Headlines from Middle-Earth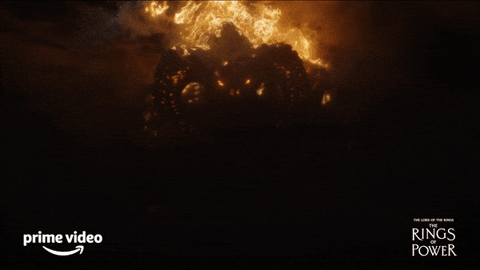 We've delved the depths and searched the heights, uncovering the Middle-earth news for you! 
Amazon FINALLY dropped the full trailer for Rings of Power. From Palantiri to Balrogs, much has been revealed. Watch it here. 
For those who couldn't attend in person, Rings of Power hosted an online Q&A. You can watch the video here.
Entertainment Weekly revealed the role J. R. R. Tolkien's grandson, Simon Tolkien, has in the new series. Here's the story.
Call to the Council
Find sources for discussion and connect with other Tolkien Fans!
With so much new information coming out of San Diego Comic-Con, we have are all eager to hear what the community has to say about all this! 

Here are some of our favorites:

Kaitlyn from Tea with Tolkien visited SDCC, attended several awesome events (including the Rings of Power Cast Luncheon), and filed a detailed report (with PICTURES). You need to see these costume previews. Read it here.

Nerd of the Rings gives his detailed breakdown of the Rings of Power trailer revealed in Hall H at the SDCC. Get his take HERE. 

Mythologie Candle's founder, Leah, attended SDCC and met some amazing people including some of our favorite content creators AND JD Payne & Patrick McKay (the SHOWRUNNERs of ROP!). She posted her best pics on Instagram. Check them out and join in the discussion!
Creator Spotlight
Looking for More Tolkien Content? This is where every week we will recommend a (hopefully new to you!) creator or community devoted to Tolkien-related content.

We adore Cosplay. The multiple layers of talent it takes to craft a perfect costume and embody a character just blows us away! One of our favorite Cosplayers who often covers the worlds of Tolkien in her work is LaurenDoesCosplay.

Lauren recently attended SDCC in this STUNNING Galadriel cosplay and met with Rings of Power's own Galadriel, Morfydd Clark. Isn't this awesome?

Check out the heartwarming story here!

Do YOU have a favorite Tolkien-themed content creator?
We'd love to hear about them and check them out! Reply to this email. Our Wizards are standing by to magically gather your responses. 🧙🏻‍♂️
⭐ Cosplay Stars! ⭐
Content creator, Asta Darling, transforms into a Hobbit Lass. Her feed is full of amazing costume pieces and so so so much fun.

Find her here.
---